December 2017
General Meeting: December 7, 2017 Chas. R. Gailey VFW 8:00 PM
Board Meeting: December 21, 2017 Chas. R. Gailey 7:30 PM
Pres.Ralph Sparks, VP Robert Rudy Treas. Mike Behr, Sr., Sec. Brian Moeves, Sgt @ Arms Adam Ashpaw, Board Members: Tim Burke 15, Ren Large 16, Denny Huxel 17, Steve Gartner 17
On the web at: www.goodtimersac.com
Saint of the Month: This month we would like to recognize Jim Wray as our saint of the month . For all the time and energy you have put into this club from foundation work to the freedom ride and much more , We thank you Jim and appreciate all that you do .
2017 Eli's Toy Drive :  Thank you for all your donations! The first to go out, 70 winter jackets and 70 sweaters/sweatshirts were just picked up this morning for teens in need, wearing layers of shirts to keep warm but now they'll have proper winter wear! More being picked up this week and we'll take them to homeless shelters and camps soon. Dave couldn't do this without all your help, thank you so much for all your support!!!  Dave is still collecting winter coats, hats, jackets, gloves and have a drop off box at Lodder's plaza on 2345 Millville ave at the Happy Hour House entry. If you can please bring a slightly used or new toy and/ or winter clothing to meeting to donate . 
2017 SOT Fundraiser :  Thanks to everyone who showed up.  We had a good turnout of the day.  Ren will give us a donation update at the General Meeting. As always a good time was had by all
2017 Day after Thanksgiving Golf :  Congratulations to Gene Tom's team!  It looks like Justin knows how to pick the right friends.
2017 Family Christmas Party : Thanks to Santa and all the Papaws out there who shared their families with us.  It is great to see the next generation growing together.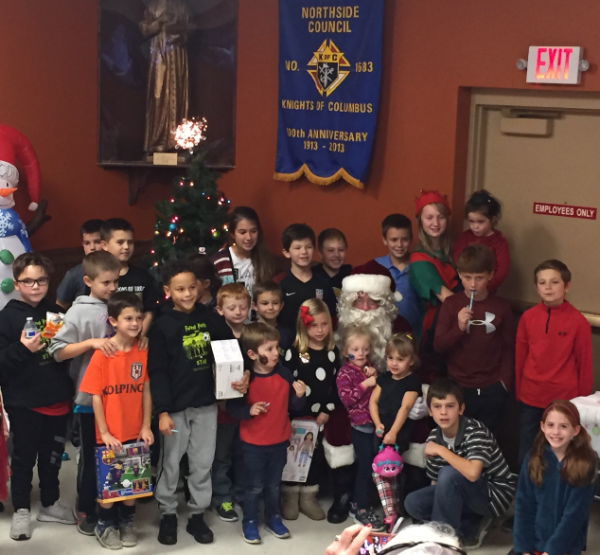 2017 Adult Christmas Dinner: Date: December 20. Where : The Mill at Winston Woods Time : 6pm- 11pm Sponsor : Mike Behr – Price for a great evening of food, spirits , and a fantastic time will be $45 / person
2018 35th Annual Goodtimers Ski Trip: Date: January 14 – 17 Where: Seven Springs PA Time : TBD 3 Night Package. G/T Member Price – $410* Regular Room – Slope View $450* Non Members – $420* Regular Room – Slope View $460* Package includes lodging, 1 dinner, 3 buffet breakfast, cocktail hour, overnight ski check and lift tickets for Sunday at 4:00 through Wednesday 7:00. Sponsor: Robert Rudy **** Final Payment Due at December Meeting 
2018 Super Bowl Party : Date:  February 5 – Looking for ideas for a party . We are looking into renting K of C but all ideas are welcome and nothing is set in stone .
2018 GT Bowling : Date: February ??? Where: Heids Bowling  Time: TBD . We are looking into dates to host the annual Goodtimers Open . Always a good time . Info coming soon 
2018 GT Celebrity Bartender: Date: TBD , Where: Tyme Out , Time : TBD – information to come
2018 911 Steel St Pattys day parade : Date March 10th – more details to come but save the date .
2018 GT Golden Ball : Date and time TBD – Get your dancing shoes ready because the dance of a lifetime is in the works
2018 911 Steel opening day parade : Date: April 2, 2018
2018 GT Goat Yoga : Date: April 1, 2018, Where: Ken and Theresa Blaylock compound , Time : TBD  – This will be stop #3 on the Goodtimers Golden Tour . Goats and rubber boots will be available for a small fee . Get your Yoga pants ready and start your stretching because this is going to be one of the best workouts you can get . Fruit and juices will be served
2018 GT Keenland Trip: Date: April 21st 2018 –  Price will be $135 / couple . Will meet at Sams in the morning . Everybody bring chairs . Beer and food will be provided. A-M bring App , N-Z bring dessert
2018 GT50 Gatlinburg: Date: July 13 – 15 Sponsor : Robert Rudy
2018 GT50 Family Picnic @ the Grove: Date: September 2018 – We are heading back to where it all started.
Committee Reports: 
Scholarship – The next scholarship committee meeting will be next Thursday, Dec, 14th, 6:30 Soccer City, Field D.
50th Anniversary (Golden Tour) –
911Steel.com –
Support our Troops – Packing boxes for 6 local soldiers on December 11th at Elis Sports Bar in Ross, beginning about 7:30. we are collecting the necessities i.e. Toilet paper , deodorant , Toothpaste , Tooth brushes , Handy Wipes
Foundation –
Don't forget to select the Goodtimers Foundation as your Amazon Smiles Charity.
Don't forget to select the Goodtimers Foundation as your Krogers Community Rewards.
We are still collecting coats and toys at the December meeting.
New Business:50th Anniversary Golden tour events