November 2017
General Meeting: November 2, 2017 Chas. R. Gailey VFW 8:00 PM
Board Meeting: November 16, 2017 Chas. R. Gailey 7:30 PM
Pres.Ralph Sparks, VP Robert Rudy Treas. Mike Behr, Sr., Sec. Brian Moeves, Sgt @ Arms Adam Ashpaw, Board Members: Tim Burke 15, Ren Large 16, Denny Huxel 17, Steve Gartner 17
On the web at: www.goodtimersac.com
Saint of the Month: Novembers saint of the month is Tom Scherz Sr. for all his hard work in preparing meals for both the scholarship golf outing, the Fred Chasteen red tee / blue jacket open , as well as many other events . Thanks Pops.
2017 911 Steel – Auroras farmers fair : A good time was had by all ! Kaitlyn Baker had another fantastic performance.
2017 Fred Tee Open:  Congratulations to Adam Ashpaw for shooting an 80 at Circling Hills and claiming this year's Blue Jacket.  A very special thank you to Carol and Meghan Chasteen for supporting us.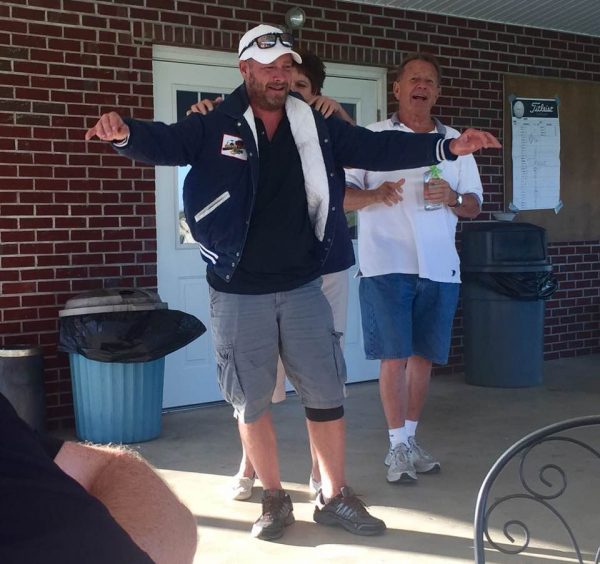 2017 Fristoe Catering Chili Cook-off : Congratulations to RicHARD!  Rich Hinton was the 2017 Chili Cook Off Champion and Runner up was RobIN Fristoe.  Click to here to enjoy Perfect Norm Revival.

2017 Eli's Toy Drive :  Date:  November 17th  Where: Eli's in Ross Dave is organizing a toy drive for the children at homeless shelters this Christmas. We are collecting money to buy toys, games, puzzles and hopefully get people to drop off gently used and new toys. We are meeting with the Chrome Diva motorcycle club ladies.  Look for more details. 
2017 SOT Fundraiser Date: November 22  Where: Quaker Steak and Lube Time : All Day This fundraiser has been extremely helpful with the packing of boxes for our over seas troops we provide gift packages for . Don't forget to tell your waitress . Quaker Steak will donate 20% of your bill to the GT SOT fund.  Sponsor: Ren Large
2017 Day after Thanksgiving Golf Date: November 24 Where: Circling hills Time: TBD Sponsor : Bud Lebar
2017 Family Christmas Party  Date: December 3rd  Where : KofC Time : 2pm – ??  Sponsor : Sarge ShearerPizza will be served around 4pm . Santa will arrive after . A-M bring side dish N-Z bring dessert
2017 Adult Christmas Dinner:  Date: December 20. Where : The Mill at Winston Woods Time : 6pm- 11pm  Sponsor : Mike Behr  – Price for a great evening of food, spirits , and a fantastic time will be $45 / person
2018 35th Annual Goodtimers Ski Trip: Date: January 14 – 17  Where: Seven Springs PA Time : TBD  3 Night Package.  G/T Member Price – $410* Regular Room – Slope View $450*  Non Members – $420* Regular Room – Slope View $460*  Package includes lodging, 1 dinner, 3 buffet breakfast, cocktail hour, overnight ski check and lift tickets for Sunday at 4:00 through Wednesday 7:00.  Sponsor:  Robert Rudy
2018 Super Bowl Party – Looking for ideas for a party . We are looking into renting K of C but all ideas are welcome and nothing is set in stone .
2018 GT50 Gatlinburg: Date: July 13 – 15 Sponsor : Robert Rudy
2018 GT50 Family Picnic @ the Grove: Date: July 17 We are heading back to where it all started.
Committee Reports:
Scholarship- Next meeting will be November 9th @ Soccer City field D (New Building) Time: 630pm
50th Anniversary (Golden Tour)
We will be having a meeting November 16th to discuss 50th Anniversary events and allocating funds to determine a budget . Any and all ideas are strongly encouraged. If you cannot attend , please send any thoughts or ideas to Mike Behr ( behrmj36@gmail.com)
911Steel.com
Support our Troops

Packing boxes for 4 local soldiers on Monday, November 13th at Elis Sports Bar in Ross, beginning about 7:30.  we are collecting the necessities i.e. Toilet paper , deodorant , canned food etc .

Foundation

Don't forget to select the Goodtimers Foundation as your Amazon Smiles Charity.
Don't forget to select the Goodtimers Foundation as your Krogers Community Rewards.
100 Coats and 100 hoodies!  We are putting together a coat drive for the Children's Home of Cincinnati.  We will collecting at the November and December general meeting.
It has been brought to the boards attention that members have thoughts and/ or ideas regarding the allocation of funds to charities. We are always open to new ideas and other charities to distribute funds to. For any thoughts or ideas in regards to the charities we distribute to , forward any thoughts or ideas  to the board
New Business: Submit any 50th Anniversary ideas to Mike Behr by email.  behrmj36@gmail.com