October 2017
General Meeting: October 5th, Chas. R. Gailey VFW 8:00 PM
Board Meeting: October 19th, Chas. R. Gailey 7:30 PM
Pres.Ralph Sparks, VP Robert Rudy Treas. Mike Behr, Sr., Sec. Brian Moeves, Sgt @ Arms Adam Ashpaw, Board Members: Tim Burke 15, Ren Large 16, Denny Huxel 17, Steve Gartner 17
On the web at: www.goodtimersac.com
Saint of the Month: This Month's Saints are Norm Akridge, Ron Schutte,  and Deron Blaylock for donating their scholarship winnings  back to the foundation.  Thank. You.
We would also like to thank Mike Cannon for all his hard work and time with the 911 Steel traveling memorial
2017 Scholarship Golf Outing:  Congratulations to the Akridge Foursome on winning this year's outing.   We raised over a $1000 for the scholarship fund.
911 Steel – Camp Washington Community Council: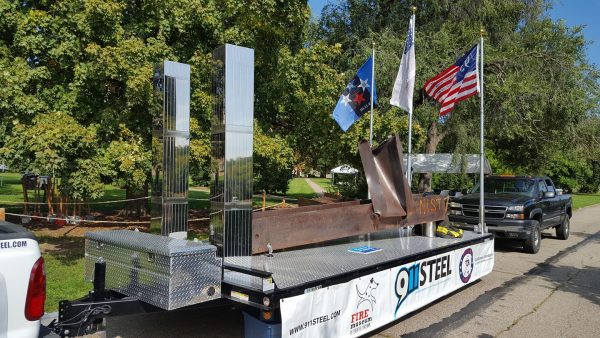 911 Steel – Harrison Chamber of Commerce Golf Outing:  Did you check us out on the Channel 12 News.  Our 911 Steel Historian, Mike Cannon looked great for 6:00 AM in the morning.  http://local12.com/news/local/911-steel-beam-in-harrison-as-part-of-remembrance
Golden Tour – Football Reunion:  Report will be given at meeting . I am sure a good time was had by all 
911 Steel – Green Beret Golf Outing:  Ren or Robert to give full report at meeting
2017 Briteleaf Golf Trip: Nice turn out for Kenny's Pool/ Birthday Party. Shout Out to Bobby Fristoe for running the Dog & Pony Show. Great Time Had by All.
2017 911 Steel Minster Oktoberfest: Date: October 1st Where: Minster Ohio : 911 Steel will be part of the Oktoberfest parade which will be Sunday at 2pm . A possible road trip to head up Saturday for the Oktoberfest activities . For more info : minsteroktoberfest.comn Sponsor:  Robert Rudy
911 Steel – Aurora's Farmers Fair : Date: October 4 – 7th.  We need Volunteer Greeters.  Sign up at the meeting. We will have a flyer at the meeting.  Kaitlyn Baker will be there singing her new single.  http://aurorafarmersfair.org/ Sponsor Robert Rudy
2017 Fred Tee Open:  Date: October 13th .  Where:  Circling Hills.  Come and compete for our club championship the coveted, blue, corduroy jacket.  Come and celebrate the memory of Fred Chasteen.  SINGLE PLAYER COMPETION FOR THE JACKET.  RSVP NO LATER THAN OCTOBER 6TH FOR GOLF AND/OR DINER ONLY.  SIGN UP INDIVIDUALLY, 2's, 3's OR A FOURSOME.  PAY FOR YOUR OWN GOLF PLUS $15 FOR DINNER AND GAMES.  DINNER ONLY $8.00 – RSVP SO WE HAVE A COUNT FOR FOOD.  DINNER AROUND 4:00.  LADIES ARE INVITED TO PLAY OR JOIN US FOR DINNER AND FUN AFTER GOLF.  RSVP TO MIKE BEHR, behrmj36@gmail.com
2017 Bud and Ali Fristoe annual chili cook off Date: October 14  Time: 3pm – 9pm Where: Dunham Art's Center 1945 Dunham Way Cinti, OH 45238.  This is a fundraiser to help raise money to restore this historical arts building and host theatre, studios, and after school arts programs . There will be food , beer , fun, and live music with games and prizes for the kiddos . The chili cook off tasting and judging takes place from 4 – 6 pm . Any entries to contact robertcfristoe@yahoo.com.  Sponsor : Bud Fristoe
2017 Support our troops fundraiser Date: November 22  Where: Quaker Steak and Lube Time : lunch to close This fundraiser has been extremely helpful with the packing of boxes for our over seas troops we provide gift packages for . Don't forget to tell your waitress . Quaker Steak will donate 20% of your bill to the GT SOT fund.  Sponsor: Ren Large
2017 Day after Thanksgiving Golf Date: November 24 Where: Circling hills Time: TBD Sponsor :Bud Lebar
2017 Goodtimers Adult Christmas Dinner:  Date: December 20. Where : The Mill at Winston Woods Time : TBD Sponsor : Mike Behr
2018 35th Annual Goodtimers Ski Trip: Date: January 14 – 17  Where: Seven Springs PA Time : TBD  3 Night Package.  G/T Member Price – $410* Regular Room – Slope View $450*  Non Members – $420* Regular Room – Slope View $460*  Package includes lodging, 1 dinner, 3 buffet breakfast, cocktail hour, overnight ski check and lift tickets for Sunday at 4:00 through Wednesday 7:00.  Sponsor:  Robert Rudy
2018 Australia / New Zealand: Our international touring members, just returned from a Safari in South Africa.  Next up, they are headed down under.  Sponsor:  Mike Cannons
Committee Reports:
Scholarship

Look for the next planning meeting.

50th Anniversary (Golden Tour)

The GT is heading back to the Brookside!  Gatlinburg – July 13 – 15.  Sign up.
Design Art?  Ideas?  Addresses?
50th anniversary picnic at the Grove July 17, 2018

911Steel.com
Support our Troops

Packing boxes for 6 local soldiers on Monday, October 9th at Elis Sports Bar in Ross, beginning about 7:30.  we are collecting the necessities i.e. TOilet paper , deodorant , canned food etc . Rent to report further at meeting

Foundation

Don't forget to select the Goodtimers Foundation as your Amazon Smiles Charity.
Don't forget to select the Goodtimers Foundation as your Krogers Community Rewards.
100 Coats and 100 hoodies!  We are putting together a coat drive for the Children's Home of Cincinnati.  We will collecting at the November and December general meeting.
New Business: A meeting Date will be set to discuss how to spend some of the money amassed since the Goodtimers inception. Anyone with ideas are asked to email Mike Behr