September 2017
General Meeting: September 7, Chas. R. Gailey VFW 7:00 PM
Board Meeting:  September 21, Chas. R. Gailey 7:30 PM
Pres.Ralph Sparks, VP Robert Rudy Treas. Mike Behr, Sr., Sec. Brian Moeves, Sgt @ Arms Adam Ashpaw, Board Members: Tim Burke 15, Ren Large 16, Tony Glaser 16 Denny Huxel 17, Steve Gartner 17
On the web at: www.goodtimersac.com
Saint of the Month: This month we would like to thank Dave Lodder for his efforts with both the Freedom Ride prep as well as our 911 Steel traveling memorial .
2017 Freedom Ride: A great day was had by all ! We had close to 300 bikes for the ride and a good crowd for the Freedom ride Festival . Thanks to all who volunteered their time for a great event !!
2017 New Orleans : I am sure a good time was had by those who attended . We will have official report at the meeting
911 Steel – Cincinnati Warbirds: From what I hear this was a great success . The donations received are to go to helping with the devastation in Texas .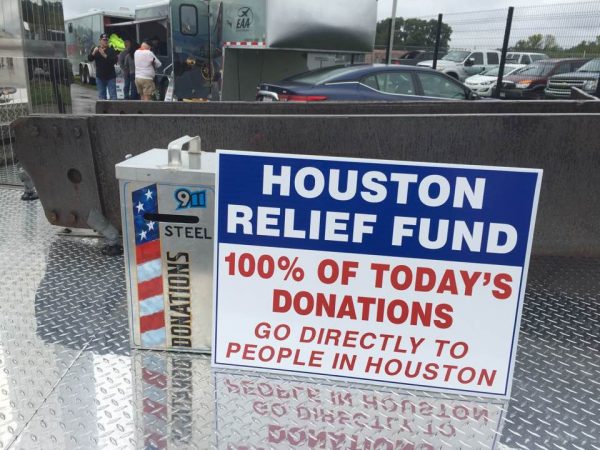 2017 Scholarship Golf Outing:  Date: September 8th Time: 11:00 AM Where: Circling Hills  The foursomes are set for Friday.  We will be playing a scramble, skins, closest to the pin, and longest drive.   If you can't golf please join us after work for dinner ($5), donations, and drinks . Sponsor: Sarge
911 Steel – Camp Washington Community Council:  Date:  September 9th  Time: 1-4 PM Where: Valley Park 3220 ColerainAve (in front of River City Correctional)  : The Camp Washington neighborhood is close to a lot of us.  Stop by and support the 911 Steel and the Camp Washington Community.  While you are in the neighborhood, stop by and try the Cincinnati chili (Hungarian style) at Camp Washington Chili. Sponsor: Robert Rudy
911 Steel – Harrison Chamber of Commerce Golf Outing:  Date:  September 11th  Time: 11:00 AM Where:  Circling Hills  This golf outing is in honor of our nation's first responders.  See the link for how you can get involved: http://www.greaterharrisoncc.com/events/ghcc-inaugural-golf-outing-2017/ Sponsor: Robert Rudy
Golden Tour – Football Reunion:  Date: September 16th Where: Ross Park in St. Bernard.  Time: 3:00 PM All teams, 1963 to the final whistle (Mr. Tuxedo, Mt. Airy Sohio, Girtens Marathon, Northisde K of C, Goodtimers, Lefties and Pin Haus).  Celebrating outstanding success, good times and great friends. This will be a BYOB and food event  Sponsor:  Mike Behr
911 Steel – Green Beret Golf Outing: Date:  September 17th / 18th  Time:  Where:  The dinner will be on Sunday the 17th.  We are able to send 4 Goodtimers to the dinner and a foursome for golf on Monday. More info will be available at meeting . Sponsor: Robert Rudy
2017 Briteleaf Golf Trip:  Date: September 22 – 24  More information to come .  Sponsor:  Sarge
2017 911 Steel Minster Oktoberfest: Date: October 1st Where: Minster Ohio : 911 Steel will be part of the Oktoberfest parade which will be Sunday at 2pm . A possible road trip to head up Saturday for the Oktoberfest activities . For more info : minsteroktoberfest.comn Sponsor:  Robert Rudy
911 Steel – Aurora's Farmers Fair : Date: October 4 – 7th.  We need Volunteer Greeters.  Sign up at the meeting. We will have a flyer at the meeting.  Sponsor Robert Rudy
2017 Fred Tee Open:  Date: October 13th .  Sponsor:  Mike Behr
2017 Bud and Ali Fristoe annual chili cook off Date: October 14  Time: 3pm – 9pm Where: Dunham Art's Center 1945 Dunham Way Cinti, OH 45238.  This is a fundraiser to help raise money to restore this historical arts building and host theatre, studios, and after school arts programs . There will be food , beer , fun, and live music with games and prizes for the kiddos . The chili cook off tasting and judging takes place from 4 – 6 pm . Any entries to contact robertcfristoe@yahoo.com
2017 Support our troops fundraiser Date: November 22  Where: Quaker Steak and Lube Time : lunch to close This fundraiser has been extremely helpful with the packing of boxes for our over seas troops we provide gift packages for . Don't forget to tell your waitress . Quaker Steak will donate 20% of your bill to the GT SOT fund
2017 Day after Thanksgiving Golf Date: November 24 Where: Circling hills Time: TBD Sponsor : Bud Lebar
2017 Goodtimers adult Christmas Party:  Date: December 20. Where : The Mill at Winston Woods Time : TBD 
2018 35th Annual Goodtimers Ski Trip: Date: January 14 – 17  Where: Seven Springs PA Time : TBD  deposits will be due at October Meeting.  Sponsor:  Robert Rudy
2018 Australia / New Zealand: Sponsor:  Mike Cannons
Committee Reports:
Scholarship

Golf Outing:  September 8th.  Put it on your calendar.
Look for the next planning meeting.

50th Anniversary (Golden Tour)

The GT is heading back to the Brookside!  Gatlinburg – July 13 – 15.  Sign up.
Design Art?
Ideas?
Addresses?

911Steel.com
Support our Troops

Packing boxes for 6 local soldiers on Monday, September 11th at Elis Sports Bar in Ross, beginning about 7:30.  we are collecting the necessities i.e. TOilet paper , deodorant , canned food etc . Rent to report further at meeting

Foundation

Don't forget to select the Goodtimers Foundation as your Amazon Smiles Charity.
Don't forget to select the Goodtimers Foundation as your Krogers Community Rewards.
100 Coats and 100 hoodies!  We are putting together a coat drive for the Children's Home of Cincinnati.  So, if you have anything, instead of Goodwill, hold on to it until Fall.
New Business:
Looking for some people to organize the 2017 Family Picnic.