April 2018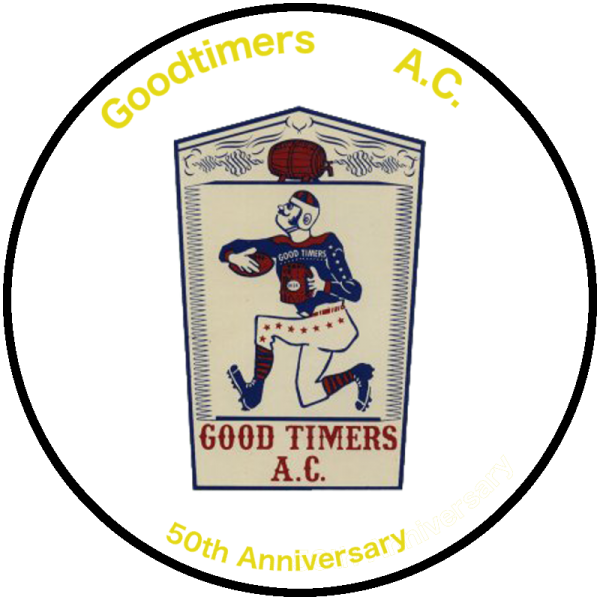 General Meeting: April 5, 2018 Chas. R. Gailey VFW 8:00 PM
Board Meeting: April 19, 2018 Chas. R. Gailey 6:30 PM
Pres.Ralph Sparks, VP Robert Rudy Treas. Mike Behr, Sr., Sec. Brian Moeves, Sgt @ Arms Adam Ashpaw, Board Members: Tim Burke 15, Ren Large 16, Denny Huxel 17, Steve Gartner 17
On the web at: www.goodtimersac.com
Saint of the Month: This month we would like to recognize Robert Rudy as our Saint of the month . Robert has put a tramendous amount of effort into promoting 911 Steel and the Goodtimers . We appreciate all that you have done and continue to do for the club
911 Steel : St Patrick's Day Parade : What a honor to have the bag pipes and drums with us during the opening ceremonies. All the Folks at the parade were all very nice considering how tight it was down there
2018 GT Jeff Ruby Steaks:   Congratulations to Blended Citizen on winning the Jeff Ruby Stakes.  Look for him in the Kentucky Derby.  A special thanks to Tom Scherz for getting us front row seats.
2018 GT Goat/Sheep Yoga : Unfotunately i was not able to attend but im sure a good time was had by all . Im sure there were some very sore Goodtimers after two hours of goat yoga . Kenny to report at meeting
911 Steel : Opening Day Parade :   I think this picture sums up the entire Opening Day experience.  Great work, guys.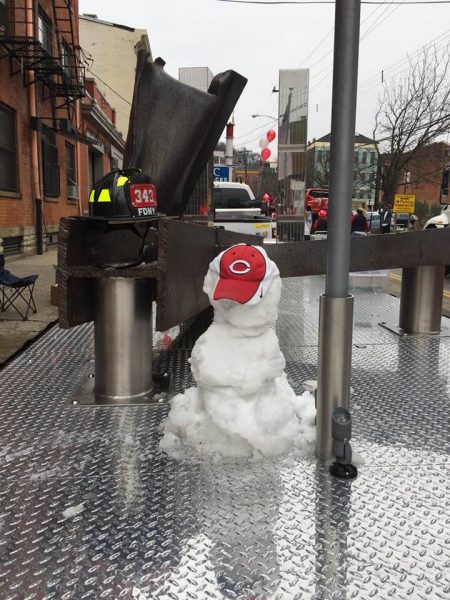 2018 GT Keeneland Trip: Date: April 21st  –  Price will be $135 / couple . Will meet at Sams in the morning . Everybody bring chairs . Beer and food will be provided. A-M bring App , N-Z bring dessert. Any questions contact Jason Wullenweber @ 513-616-3944
2018 GT Blue/ Grey soccer game: Date : May 5, 2018 – The Yutes v. Bricks. Kick off after the Kentucky Derby. There will be Derby games. We are still working on food. Details to come.
2018 Country Music Marathon : Date:  May 20, 2018  Where: Jim and Jacks – There will be exceptional local talent  performing , split the pot, and raffle baskets.  Admission will be $10.  We will be collecting  whiskey and such for the barrel of cheer , scratch offs for lottery tree and , raffle baskets . We will also have a sign up for volunteers for the event . We will also be having a meeting at soccer city April 25th to discuss event and any possible issues
2018 GT Rolling Thunder MC trip: Date: May 23- 28 – Washington – We have a block of rooms at Best Western , Pentagon , Reagan Airport. Check in Thursday May 24th and check out Sunday May 27 . We have six rooms blocked. In the past we have had 10 rooms blocked but never used them all and booking six is less complicated . So it is important to sign up if you are going and get room in case more rooms are needed . 24 hour cancellation policy ( check when you call to make sure ) Call 1-703-979-4400 to book room . Rooms are held under Mike Behr . Confirmation numbers are 253545-253549 . $139 for 1st night , $104 for 2nd and 3rd nights . Give them your CC info. Rooms should all be 2 beds so if doubling up make sure to just get one room .  Buckhannon WV- 6 rooms at the Microtel . 3 doubles and 3 suites . Suites have one queen bed and a pull out couch . Rooms are $97 . Call 1-304-460-2525 . Rooms are under Mike Behr . Give them CC info Frostburg- Jim will be making these reservations and info will be forthcoming. Any questions or problems contact Mike Behr.
2018 GT Golden Ball : Date: June 16th Where: VFW on Brownsway Time: 8pm- 12 midnight – Get your dancing shoes ready because the dance of a lifetime is in the works. This will be a 60's – 70's themed party . Prizes for best dressed . Beer , wine , and pop will be provided and a cash bar . This event will be free to current members  . It will be $25 / couple to non current members and friends . A-M bring appetizer , N- Z bring dessert ** Sign up at the meeting ** All who plan on attending need to sign up by March 4th including non members . We need 25 couples or we will need to cancel . If you can't make meeting please email Mike Behr or Brian Moeves (bmoe1125@yahoo.com)
2018 Breast Fest : Date July 8th – we will be meeting at the Holy Grail . Sign up at meeting if interested in volunteering for the event
2018 GT50 Gatlinburg: Date: July 13 – 15 Sponsor : Robert Rudy – we will be staying at Brookside Resort . A block of 25 rooms reserved . Members will need to call Brookside to reserve rooms under Goodtimers . Reserve before April. More details to come. ***Make sure to make those reservations ***
2018 GT Perry Park golf outing : Date: July 15, 16, and 17th – sign up at meeting $50 deposit due at April meeting
2018 GT Mystery trip to North Dakota: Date: August 20-29 : Some are riding and some are flying out west to visit the only state Al Rudy did not visit . Some very special activities are planned . Robert and Sarge to report at meeting . Sign up at meeting. We will be having a meet8ng April/ May to go over plans
2018 GT50 Family Picnic @ the Grove: Date: September 15th 2018 – We are heading back to where it all started. Start the New Years resolution of getting in shape because there will be a Blue/ Grey softball game
2018 GT Freedom Ride: Date: August 19th – As is every year this is our biggest  fundraising event . We will be having meetings at soccer city to discuss preparations . Date for meeting to be announced . Start collecting booze for the barrel of cheer , scratch offs and raffle baskets . Every little bit of help is always appreciated
2018 GT Briteleaf golf trip: September 21, 22, and 23 – I do believe Sarge already has a large group signed up to go . Make sure to sign up at meeting if interested and see Sarge for details
Committee Reports: 
Membership Dues are due : $60
Scholarship – next meeting will be April 11th soccer city new field 
911Steel.com – 2018 Schedule: 911steel.com/events
Support our Troops – Packing boxes for 6 local soldiers on April 9th at Elis Sports Bar in Ross, beginning about 7:30. we are collecting the necessities i.e. Toilet paper , deodorant , Toothpaste , Tooth brushes , Handy Wipes, hygiene items. Cash donations for shipping costs  are always appreciated
Foundation –
Don't forget to select the Goodtimers Foundation as your Amazon Smiles Charity.
Don't forget to select the Goodtimers Foundation as your Krogers Community Rewards.
Use the DONATE button on Facebook to directly donate to the GT Foundation.
Events in the works: we are looking into a possible raquetball / wallyball tourney. Details to come