General Meeting: February 7th Gailey VFW 8:00 PM
Board Meeting: February 21st Gailey VFW 6:30PM
Dues are due: Delinquency letters will be coming out soon.
Pres. Robert Rudy, VP Brian Moeves Treas. Mike Behr, Sr., Sec. Doug Rudy , Sgt @ Arms Adam Ashpaw, Board Members: Tim Burke 19, Ren Large 20, Denny Huxel 21, Steve Gartner 21 . On the web at: www.goodtimersac.com
Saints of the Month: All those who went out Perfect North Slopes to help the Special Olympic kids have a great day. Tom, Amy, Tracy, Tony, Karen, Paul, Robert and Doug. Also Art and Karen Bowman for all the volunteering they do to help the needy, especially during the Holidays.
Buffoon of the month: This went over like a lead balloon. So, I'll take it this month. For those newer members who have not spent any time fulfilling the club required 10 years of Goodtimer training, not everything written here is true. New Members…. Where is the ice?
2019 GT Ski Trip : Thank you to Robert Darryl Rudy for putting together yet another fine Ski Trip. This years trip was about Family, skiing and the weather. The weather was the TMF this year. I've been back in Texas for a week and I am still cold. Total time spent skiing on Monday by all guest was about 3 hours, wind chill was -20. It was decided that we will continue the tradition, sign up for 2020 at the meeting. Everyone who attended was already a Darryl, so no new baby Darryl. The chairlift for Lost Girl and Gunnar was "closed" – reports were that Tom Koenig was stuck on the lift for 3 hours. We also believe Seven Springs got the message, security was friendly, the food was great again, the average age in the Matterhorn triples when we walked in, and a good time was had by all.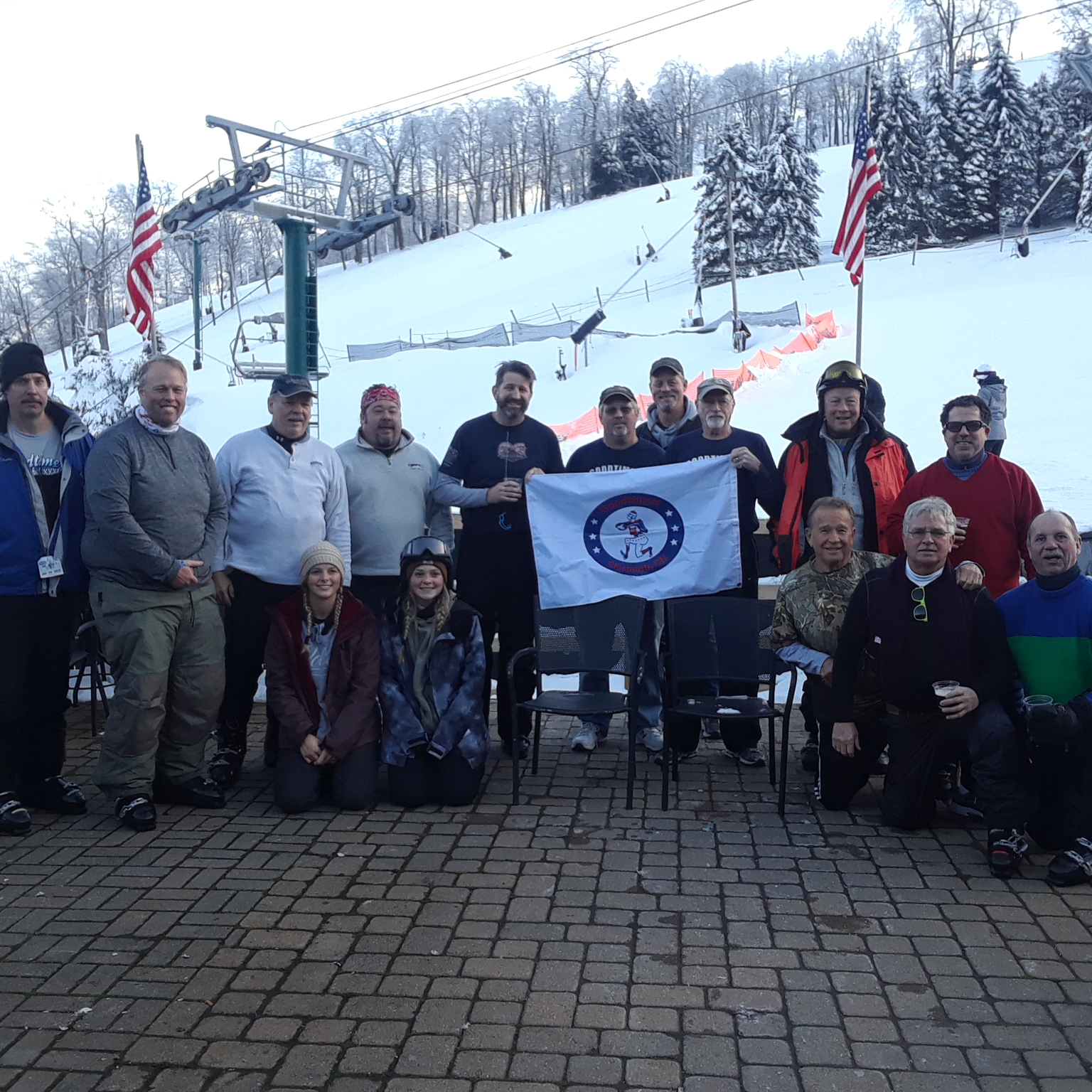 2019 Super Bowl Party : Congratulations to the Patriots and Tom Brady for winning the soccer match, thankfully no extra time was needed. Thanks to all those who came out to Soccer City. And to the Protestants for winning the pick-up game and the Catholics for winning all the square money. We are still looking for Ryan to collect his winnings. Ryan… Ryan?
Support Our Troops: Packing boxes for 10 local soldiers on February 11th at Elis Sports Bar in Ross, beginning about 7:30. we are collecting the necessities i.e. Toilet paper ,deodorant , Toothpaste , Tooth brushes , Handy Wipes, hygiene items. Cash donations for shipping costs are always appreciated
Jeff Ruby Stakes: March 9th at The Backstretch. Post time is 1:10, always good to make a few practice bets before heading to Keeneland.
2019 Curling: Date: TBD Where: Indian Hill Ice Rink. Steve Hamm – Steve club needs an update on if this is happening.
2019: Keeneland : Date:  April 13th  Where:  Keeneland  The bus is booked and deposit/money is due at the February meeting.  Cost is $140 / Couple.  If you are unable to make the meeting contact Sponsor : Jason Wullenweber to make sure you are confirmed.  This opens to non-members after the meeting.
Blue/Grey Soccer Game and Derby Party: May 4th at Soccer City. This is a chance to double down and make back all your losses from the Jeff Ruby Stakes and Keenland. As Norm always says, bet on black.
2019 Rolling Thunder: May 22-27. This is the last year this event will be happening in Washington DC. Mike has some rooms reserved and the club will be presenting the wreath at the Tomb of the Unknown Soldier on the 25th. Please contact Mike Behr if you are interesting in reserving a room.
BreastFest:  June 23rd.   Sign up if you can help with registration or the ride.  After party is out at McDog's Cafe.
Perry Park: July 14th-16 – Summer planning well underway in the cold of winter. Remember, it takes a lot of work to have a good time. Deposits are due soon.
2019 3rd Annual Country Music Marathon : Date:  Fall Where: The Den:  We are dropping Country from the title of this to open it up for more options. This will be moving to a Sunday in the fall, on a weekend the Bengals are not playing.  Looking for more committee members and input from all.
2019 Motorcycle Trip :  Date:  TBD Where : TBD  Sponsor: TBD Ideas have been shared from coast to coast and from the lowest points to the highest points in the country.
2019 Put-In-Bay : August 29th, 2019: Get ready to go back to one of the wildest places in Ohio, not Canada, but Ohio…group looking to head up for a concert to see Kid Rock, Uncle Cracker and The Menu's. More details are surely to follow.
Committee Reports:
Queen of Hearts-> Jokers Wild: We will continue with the same board and will now be GoodWill hunting the Joker.
Scholarship – The 2019 Application is available on the web site. Applications due no later than March 31, 2019.
911Steel.com – Meeting Notification – Feb 14th to discuss obtaining a corporate sponsor. Upcoming events to save the dates for include, St. Patrick's day parade (March 16th) and Reds opening day parade (March 28th) Check out all the pictures from our events on 911steel.com/events. We are still looking for a trailer sponsor going into next season.
Support our Troops – Thanks to everyone who supported the Super Bowl squares. We are still taking donations for the troops. Join us February 11th @ Eli's to pack boxes for 10 soldiers.
Bob Blaylock Children's Fund –  Brief set of notes from the meeting.  The group decided that we would focus on small organizations that make a difference. Organizations that were mentioned:Children's Hospital,Stepping Stones,Santa Maria,Shared Harvest,Children's Services,Children's Home of Cinti,Boys Hope-Girls Hope of Cinti,Boys and Girls Club.  We will always be looking for individuals that are family and friends of the club that may need assistance. We will be looking for input on who, when and where so if you have ideas please let someone on the board know.  We thought schools and police agencies could be a good source.  Also, we discussed having a fund raiser specifically for this fund to keep it as  an on going practice.  Everyone is invited and welcome to come to the next meeting.  February 13.
Welcome Committee: Please welcome Bryan Click to the club. He has been attending the ski trip for many years and has finally decided to take the plunge. Welcome Bryan, now where did I put the sheep?
Foundation: Don't forget to select the Goodtimers Foundation as your Amazon Smiles Charity, Kroger's Community Rewards, and use the DONATE button on Facebook to directly donate to the GT Foundation.
Member News:
It is with great pride to have been present at the spreading of ashes at Seven Springs. I believe one of the OG12 for Seven Springs, Fred Chasteen. Please take a quick second to remember our friend, who always put a smile on my face, as I am sure he did yours.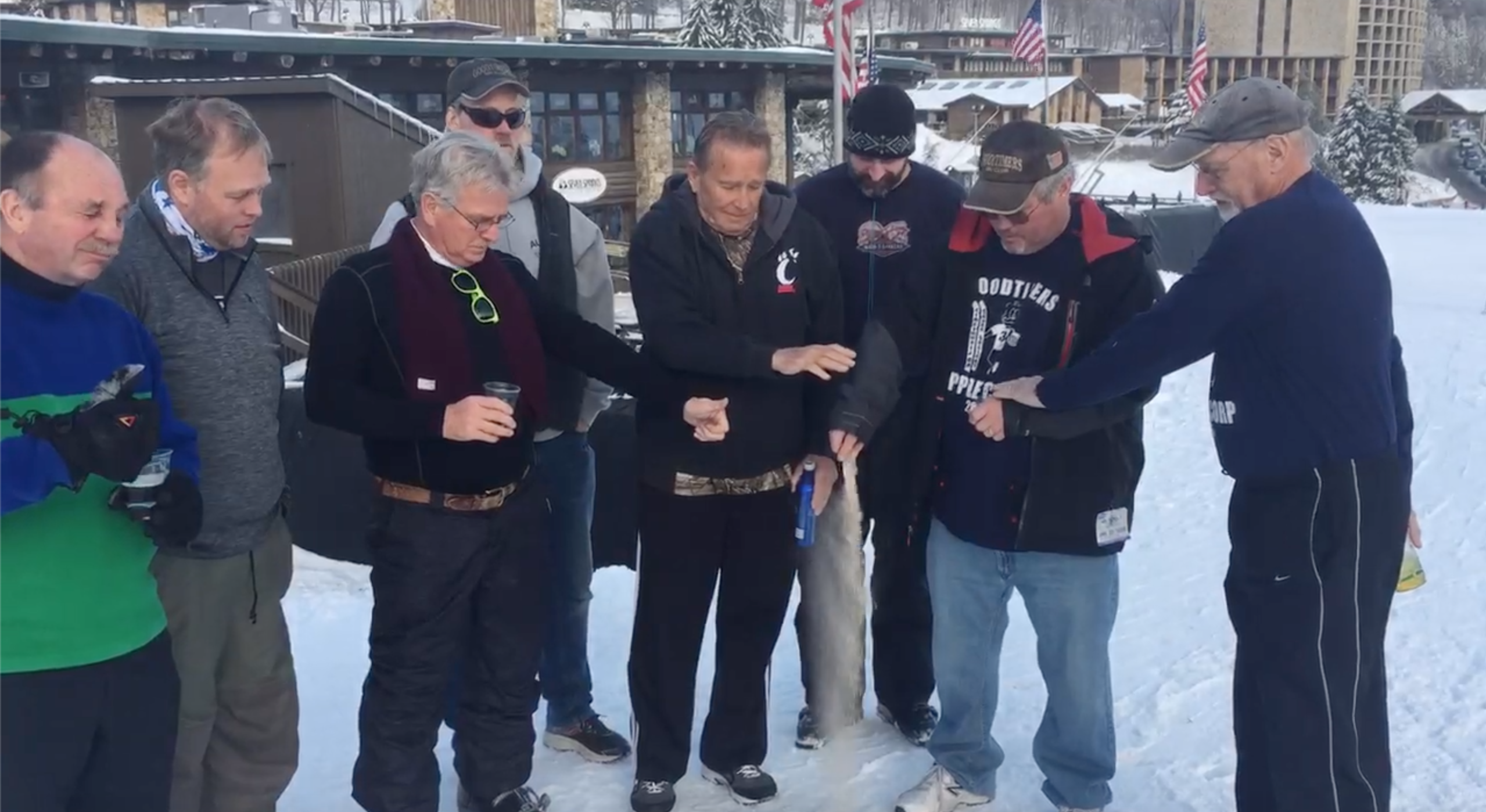 Florida Chapter: Apparently there is a Snow Bird chapter starting down in Florida, or well maybe it's been a few hundred years…need to get and update for the newsletter. Realistically who is still reading this anyway. Email to douglasarudy@gmail.com
Celebrity Waitresses: Possible at the March meeting??? Who is in it for the tip?
IS IT TRUE? There is a new Seven Springs Diet Plan work out and Cookbook coming to a Blockbuster near you. Published by Mooseknuckle Distributing.
New Business:
Looking for ideas for a Winter to Warmth trip in 2020.
Looking for a sponsor to put together a FC Cincinnati MLS game.
February Brings Us:
Presidents Day-18th, Doug Rudy's Birthday, 16th, World Day of Social Justice 20th