General Meeting: January 3rd Gailey VFW 8:00 PM
Board Meeting: January 24th Gailey VFW 6:30PM
Dues are due: Time to start digging through the couch for some quarters.
Pres. Robert Rudy, VP Brian Moeves Treas. Mike Behr, Sr., Sec. Doug Rudy , Sgt @ Arms Adam Ashpaw, Board Members: Tim Burke 19, Ren Large 20, Denny Huxel 21, Steve Gartner 21 . On the web at: www.goodtimersac.com
Saints of the Month: Ken Brandt – thanks to all you do for veterans, especially within the dental industry and for founding the No Vet Left Behind organization.
Buffoon of the month: Joe Karis for hiring Tom Koenig to DJ the Adult Christmas Party….actually joking here – but my DJ TK would lay down some serious tracks for everyone to have a good time.
2018 GT Kids Christmas Party: Special Thanks to Santa and Mr. Claus and Elf Eva for making the kids party a good time. And to everyone that helped set up at the KofC.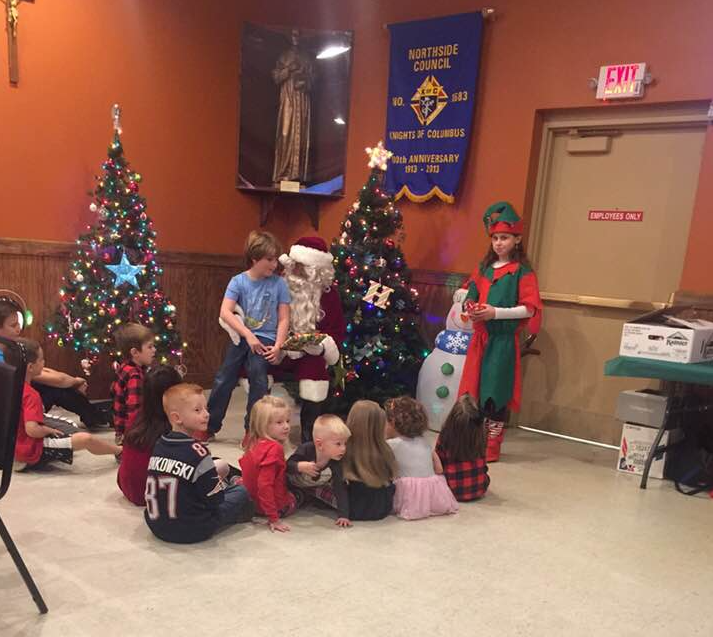 2018 GT Adult Christmas Party:   Nothing to say about the wonderful group of people pictured below.  Looks like it was a tie for the first place in the ugly sweater competition between, well, everyone.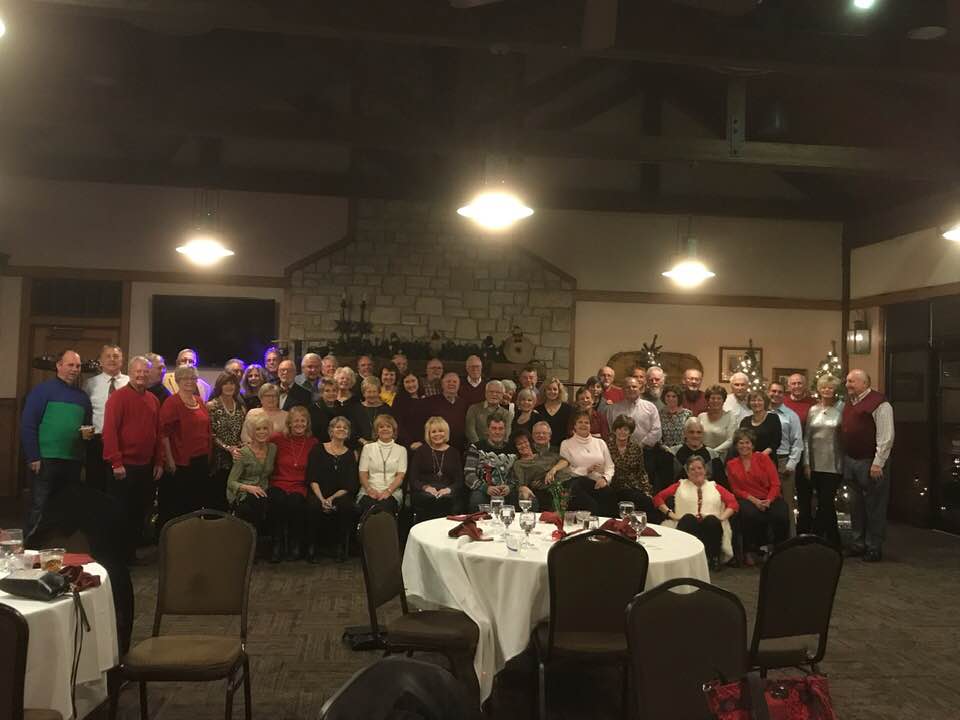 2018 Christmas Darryling: We welcome a new baby Darryl. He will be known as the Knotty Darryl since Mom had him away from home. Congrats to Gary Weddle on joining the family.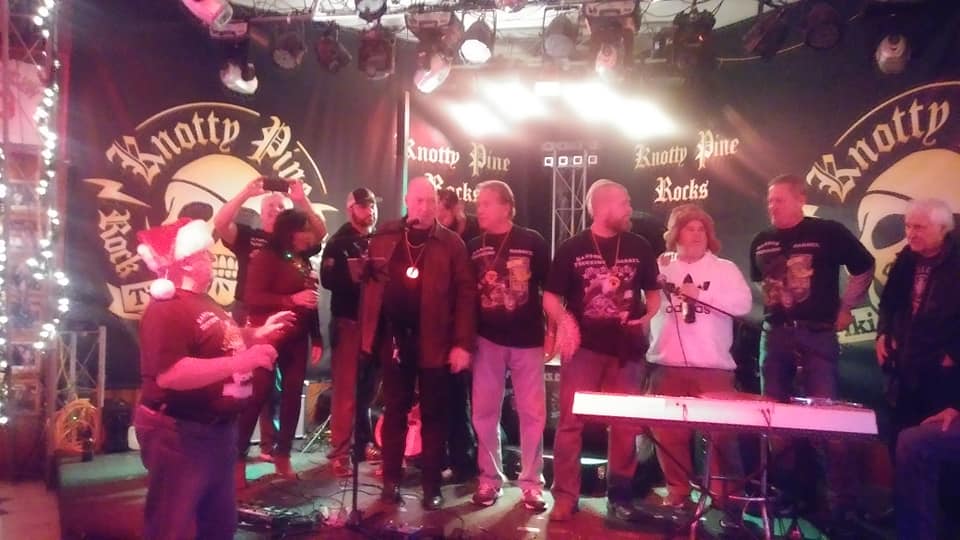 2018 Longhorn Caroling: The remote team had a blast breaking in some Virgin Ho Ho Ho's in South Texas. It was a full family affair and the group is ready to try some other Goodtimer events.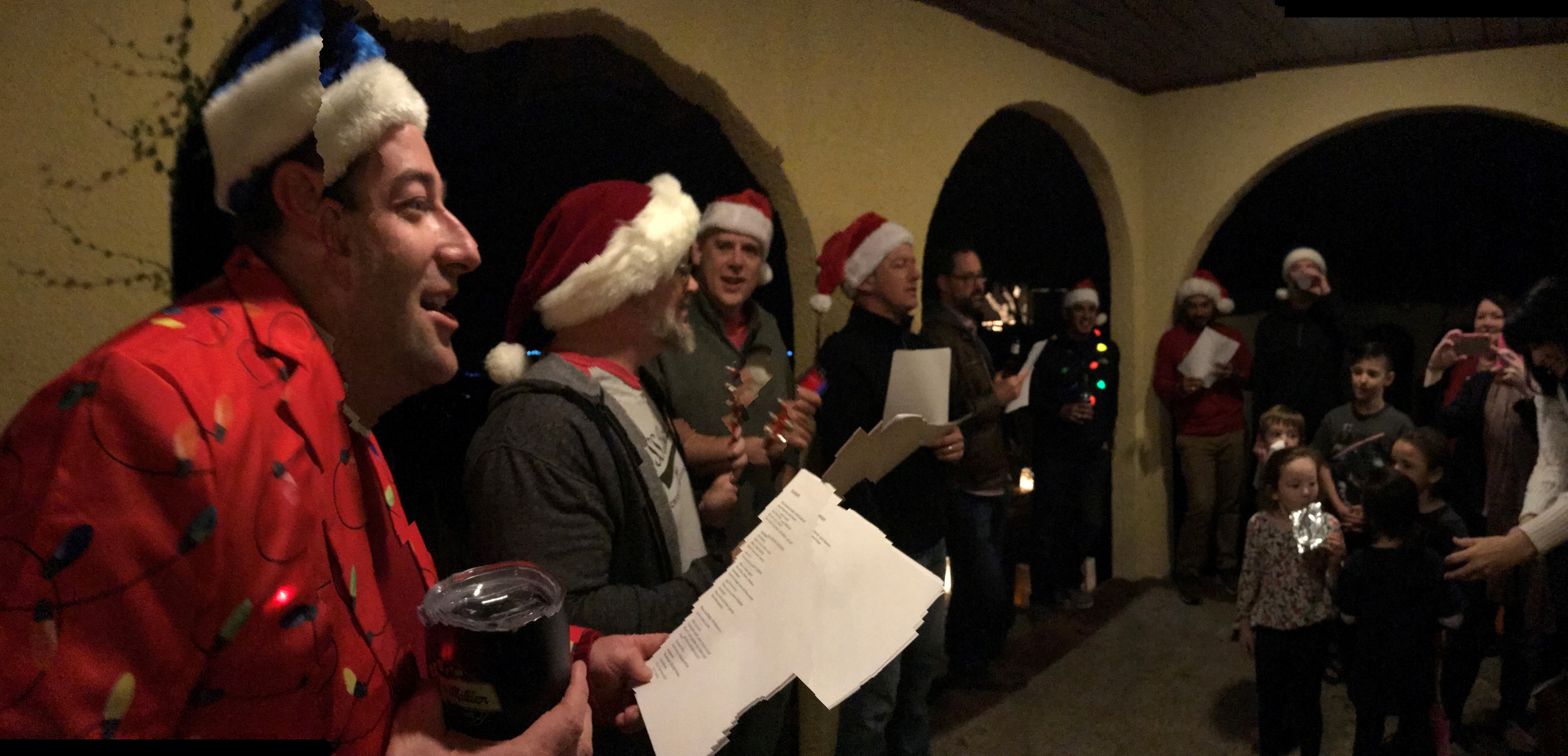 2019 GT Ski Trip : Date: January 20- 23 – Family trip. Update, if anyone would like to attend, there is still some room. Looking as if this might be the farewell round at Seven Springs – next year look for new details on a winter trip, to a warm location…Trip details are as follows: 3 Night Package. G/T Member Price – $420* Regular Room – Slope View $460* . Non Members – $430* Regular Room – Slope View $470* . Package includes lodging, 1 dinner, 3 buffet breakfast, cocktail hour, overnight ski check and lift tickets for Sunday at 4:00 through Wednesday 7:00. Money due at the December Goodtimer Meeting. Sponsor : Robert Rudy
Support Our Troops: Packing boxes for 5 local soldiers on January 14th at Elis Sports Bar in Ross,beginning about 7:30. we are collecting the necessities i.e. Toilet paper ,deodorant , Toothpaste , Tooth brushes , Handy Wipes, hygiene items. Cash donations for shipping costs are always appreciated
2019 Super Bowl Party : Date February 3, 2019 Where: In the works for Soccer city. Look for more details at the meeting and an e-mail with more details. Bring some cash to the meeting if you are interesting in purchasing some squares. Sponsor: Mike Behr
2019 Curling: Date: TBD Where: Indian Hill Ice Rink. We actually might be getting good at this sport after all these years. Sponsor: Steve Hamm
2019: Keeneland : Date: TBD Where: Keeneland Never too early to start thinking about the Spring Meet at Keeneland. Sponsor : Jason Wullenweber
2019 3rd Annual Country Music Marathon : Date: TBD Where: TBD: There will be a meeting about this event following the board meeting on the 24th of January, should start about 7.
2019 Motorcycle Trip : Date: TBD Where : TBD Sponsor: TBD
2019 Put-In-Bay : August 29th, 2019:  Get ready to go back to one of the wildest places in Ohio, not Canada, but Ohio…group looking to head up for a concert to see Kid Rock, Uncle Cracker and The Menu's.  More details are surely to follow.
Committee Reports:
Queen of Hearts-> Jokers Wild: We will continue with the same board and will now be GoodWill hunting the Joker.
Scholarship – The 2019 Application is available on the web site. Applications due no later than March 31, 2019.
911Steel.com – Upcoming events to save the dates for include, St. Patrick's day parade and Reds opening day parade Check out all the pictures from our events on 911steel.com/events. We are still looking for a trailer sponsor going into next season.
Support our Troops – Packing boxes for 5 local soldiers on January 14 at Elis Sports Bar in Ross, beginning about 7:30. we are collecting the necessities i.e. Toilet paper , deodorant , Toothpaste , Tooth brushes , Handy Wipes, hygiene items. Cash donations for shipping costs are always appreciated
Bob Blaylock Children's Fund – We are excited to announce our latest addition to the Goodtimer's Foundation. The Blaylock family has donated over $6000 to be used to support any children's causes. We will have our first organizational meeting on Thursday, Jan 17th at the VFW. Looking for volunteers to help lead this portion of the club.
Foundation – December Donations:
$750 – Shared Harvest
$250 – Kids Backpack Program
Don't forget to select the Goodtimers Foundation as your Amazon Smiles Charity, Kroger's Community Rewards, and use the DONATE button on Facebook to directly donate to the GT Foundation.
Member News:
Prayers to Jerry and Kari Kopriwa who both are having some health issues and could use some Goodtimers Luck and prayers.
January Brings Us:
New Years Day-1st, National Law Enforcement Day-9th, Martin Luther King Jr Day-21st, Beer Can Appreciation Day-24th