General Meeting:  December 3rd , Gailey VFW Pavilion, 7:00 PM.  
Dinner will not be provided.  Beer and Snacks available.
Board Meeting: December 17th , Gailey VFW Pavilion 6:30 PM
Zoom Available : Click here -> https://us02web.zoom.us/j/7695443882?pwd=VitIa2N1N1lyOUFpVUtXbCtKaG9HZz09
Pres. Tony Glaser, VP Ren Large Treas. Mike Behr, Sr., Sec. Thomas Scherz , Sgt @ Arms Sarge Shearer, Board Members: Denny Huxel 21, Steve Gartner 22, Tim Burke 23, Tom Koenig 24
www.goodtimersac.com
Good and Welfare: Keep Adam Carlson in your thoughts and prayers as his mother, Kathy passed away this month.
2020 : GT : Day After Thanksgiving Golf : Congratulations to the Fristoe Foresome on securing the Golden Gobbler this year.
2020 GT Christmas Dinner : CANCELLED Hamilton County Parks has cancelled their banquet services for the winter due to COVID. Contact Mike Behr for a refund if you have already paid.
2021 38th Anniversary Family Ski Trip. Date : January 17th – 20th. Where : Seven Springs Ski Resort, PA. Cost: $ 435 / person. Time to escape to the slopes. See Robert about Family rates. Deposits due at the December meeting.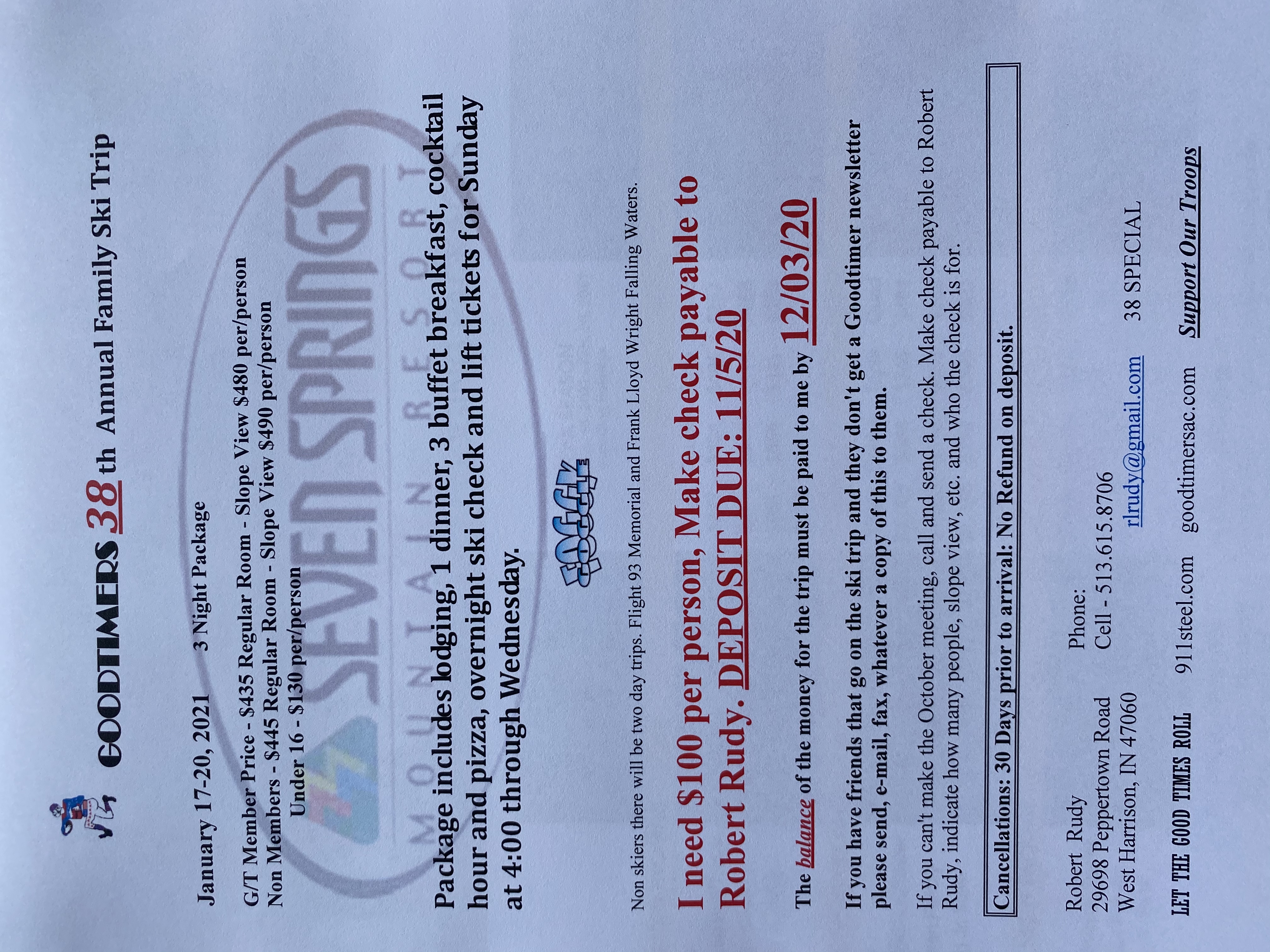 Committee Reports
Scholarship : We are planning a 2nd golf outing around May 8th. Sarge is confirming the date on a Saturday for the 2021 Scholarship Fund. Ren is taking volunteers for the 2021 Scholarship committee. Representative: Ren Large
911Steel.com – Mike Cannon and Robert Rudy are putting together the 2021 schedule. Representative : Robert Rudy
Support our Troops – We currently have 1 soldiers we are sending packages to. We will be at the VFW on the 3rd Wednesday of the month, December 16th . Still accepting donations, cash for postage, deodorant, hand wipes, shampoo, tooth paste, hygiene items. If you cannot make it to the VFW, contact Ren Large (smag55@aol.com) and he will make arrangements to pick up items. We are always looking for new soldiers to send packages. Contact us if you know someone.
Bob Blaylock Children's Fund – We are looking at possible fundraisers and new ways that we can support local needy kids. Jim Wray will put together a meeting soon.
Lodder Christmas Fund – Last Call! Still looking for hoodies and coats. Now is the time to dig them out of your closet. You can bring them to a General Meeting or deliver them to his donation box at 2247 Millville Avenue at Lodder's plaza.
Foundation: Thank you Steve Gartner on the Foundation financial update. It looks like we have over $6500 available in the Children's Fund, approximately $2000 in the Support our Troops, and $1200 in the Scholarship fund.
Jokers Wild: The jackpot is over $500 There are still two jokers out there. Dues must be paid and present to win.
Florida Chapter / Texas Chapter / Indiana Chapter: Papa Kelsey still has a few Sterling Silver Goodtimer Charms. Contact him are interested in one.
Would you believe?
Sarge is a certified COVID Compliance Officer
Events looking for Chairperson : Bardstown / Buffalo Trace Jail / Blaylock Celebrity Bartender / Curling / Cincinnati Roller Girls / Winter to Warmth 2020: Racquet ball tournament in Key West! / Roller Skating Party
Community Rewards: Remember! Do all of your Amazon shopping from smile.amazon.com to make sure the foundation gets the rewards.