General Meeting: September 3rd , Gailey VFW Pavilion, 7:00 PM
Board Meeting: September 17th, Gailey VFW Pavilion 6:30 PM
Pres. Brian Moeves, VP Tony Glaser Treas. Mike Behr, Sr., Sec. Thomas Scherz , Sgt @ Arms Adam Ashpaw, Board Members: Ren Large 20, Denny Huxel 21, Steve Gartner 21, Tim Burke 22
www.goodtimersac.com
Elections: We are VOTING this month. Ballots are :
Officer                       Brown Party                         Gold Party     
Vice Prez                   Brian Moeves                       Ren Large
Treasurer                  Mike Behr                             Brian Hadley
Secretary                   Open                                      Thomas Scherz
SoA                              Adam Ashpaw                     Sarge Shearer
BM                              Tom Koenig                          Open
Thoughts and Prayers : Keep Erin Shearer in your prayers again as she recovers from her intense 2-part surgery. Prayers for Flyman during his battle with cancer. Continue your support for John Hoeh on the passing of his sister.
2020 Night Club Golf : We had 3 teams tied at 30 and the win goes to Drunkie Smurf for having the most readable score card. Huge thanks to Bud Fristoe and the Fernbank Golf Course for hosting us.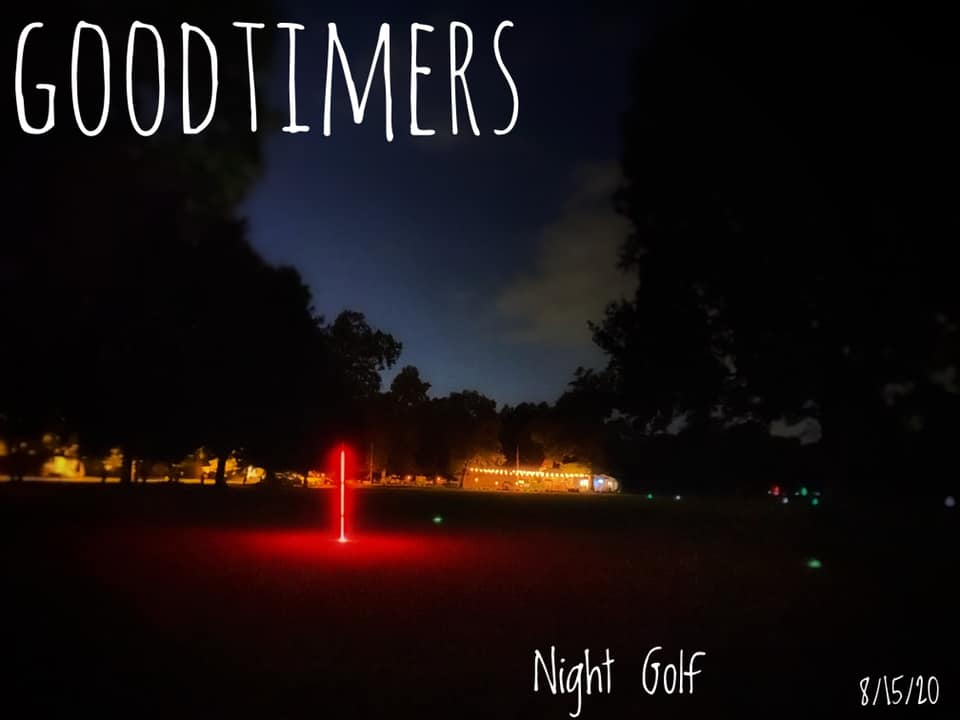 2020 Scholarship Golf Outing Date: September 11th. Where: Circling Hills. Time: 9:00 AM Cost : $60 This is the primary fund-raiser for our Scholarship fund. The more funds we generate the more we can give out. We will be doing boxed lunches at the turn. Prizes and Skins for the winners. Contact Sarge with your foursome. Sponsor: Sarge
2020 911 Steel Pub Crawl Date: September 12th Where: 2nd Street Saloon Time : 4:00 PM – 11:00 PM We will be working with 2nd Street Saloon to host a Cheviot Pub Crawl. We will raffle off a TV and Barrel of Cheer. Tony has organized tickets to pre-sale for $10 each. The ticket gets you an automatic entry in the Barrel of Cheer raffle and with 6 stamps from the bars, you are entered into the TV raffle. IF the event is cancelled then ALL pre-sale tickets will be entered in both raffles and all proceeds go to the 911 Steel Foundation. See link for details: See Tony for presale tickets. Sponsor : Tony Glaser
2020 BreastFest Date : September 13th. Where: Yeager-Benson American Legion. Time: 4:00 PM. The ride begins at NOON. If you are able to volunteer. Sponsor: Thomas Scherz. Here is the sign up https://www.signupgenius.com/go/5080d49aaac28a5fc1-breast3
Lodder Christmas 4 Kids Fundraiser: Date : September 19th. Where: Big Bull's in Ross. Sponsor : Dave Lodder
2020 Fred Tee Open : Date : October 9th. Where : Circling Hills Time: 10:00 AM Since we have all been inside for the last few months, there is an even shot at the Blue Cord Jacket. Stroke play. Sponsor : Mike Behr
2020 GTMC Texas Trip : Date: October 12th – 21st Where: San Antonio, TX. Headed to visit the Longhorn Chapter. Sign up if interested. We are working on a count. Planes, trains, and automobiles. Any way you want to go. Sponsor : Tony Glaser
2020 GT : Music Marathon: Date: November 8th. Sponsor: Bengals Bye Week. Where : Pirates Den. This is the same day as the Fristoe's Masters Party. We may need to discuss this. Sponsor: Mike Behr
2020 SOT : Quaker Steak Fundraiser Date: November 25th . Where: Quaker Steak Come and join us for dinner, before you have to spend the day cooking. Sponsor : Ren Large
2020 : GT : Day After Thanksgiving Golf Date November 27th Where Circling Hills. The real question is…. What will the weather be like? Sponsor : Bud Lebar
2020 GT : Poker Night Date: November Where : VFW. We are still working out the details. We might turn this into a larger Monte Carlo night if there is enough interest. Sponsor : Thomas Scherz
2020 GT Christmas Dinner : Date : December 17th Where : Mill Course Join us for our annual holiday Prime Rib Buffett dinner. Full Open Bar. It will be $60 / couple for members and $120 couple for non-members. Sponsor: Mike Behr
2020 GT: Mystery Trip : Date : Mystery! Where: Mystery!
2021 38th Anniversary Family Ski Trip. Date : January 17th – 20th. Where : Seven Springs Ski Resort, PA. Cost: $350 – $450 / person. Deposits due at the meeting.
Committee Reports
Scholarship : Sign up for the Golf Outing. We are meeting at Barnesburg on Tuesday, September 1st to discuss the Golf Outing.
911Steel.com – Sell those Pub Crawl tickets! Bring bottles of cheer.
Support our Troops – We currently have 3 soldiers we are sending packages to. We will be at the VFW on the 3rd Wednesday of the month, September 16th . Still accepting donations, cash for postage, deodorant, hand wipes, shampoo, tooth paste, hygiene items. If you cannot make it to the VFW, contact Ren Large (smag55@aol.com) and he will make arrangements to pick up items. We are always looking for new soldiers to send packages. Contact us if you know someone.
Bob Blaylock Children's Fund – We are looking at possible fundraisers and new ways that we can support local needy kids. Meeting : TBD
Foundation: No donations were made this month.
Jokers Wild: The jackpot is over $500 There are still two jokers out there. Dues must be paid and present to win.
Florida Chapter / Texas Chapter / Indiana Chapter: After hurricane Laura we need a check-in from the Florida and Texas Chapter. Give us an all clear on Facebook.
Would you believe?
Tony Glaser is Alive!
There is another Freshman playing Varsity soccer at Colerain. Congrats, Ava Scherz.
Mike and Robyn Behr are Great-Grandparents! When did this happen?
Events looking for Chairperson : Cincinnati Roller Girls / Winter to Warmth 2020: Racquet ball tournament in Key West! Bardstown / Buffalo Trace Jail / Blaylock Celebrity Bartender / Curling / Roller Skating Party
Community Rewards: Remember! Do all of your Amazon shopping from smile.amazon.com to make sure the foundation gets the rewards.