General Meeting: November 5th , Gailey VFW Pavilion, 7:00 PM.
Dinner will not be provided. Beer and Snacks available.
Board Meeting: November 19th , Gailey VFW Pavilion 6:30 PM
Zoom Available : Click here -> https://us02web.zoom.us/j/7695443882?pwd=VitIa2N1N1lyOUFpVUtXbCtKaG9HZz09
Pres. Tony Glaser, VP Ren Large Treas. Mike Behr, Sr., Sec. Thomas Scherz , Sgt @ Arms Sarge Shearer, Board Members: Denny Huxel 21, Steve Gartner 22, Tim Burke 23, Tom Koenig 24
www.goodtimersac.com
Good and Welfare: Share your love with the Whalen family on the loss of Edward Whalen. We also loss Bill Cronin. Bill was an amazing friend who shared his pub and his bar at home. Thoughts and Prayers.
2020 Fred Tee Open : Not only did we bring the Blue Jackets back to Barry St. Clair, we had our first hole-in-one from Brian Moeves.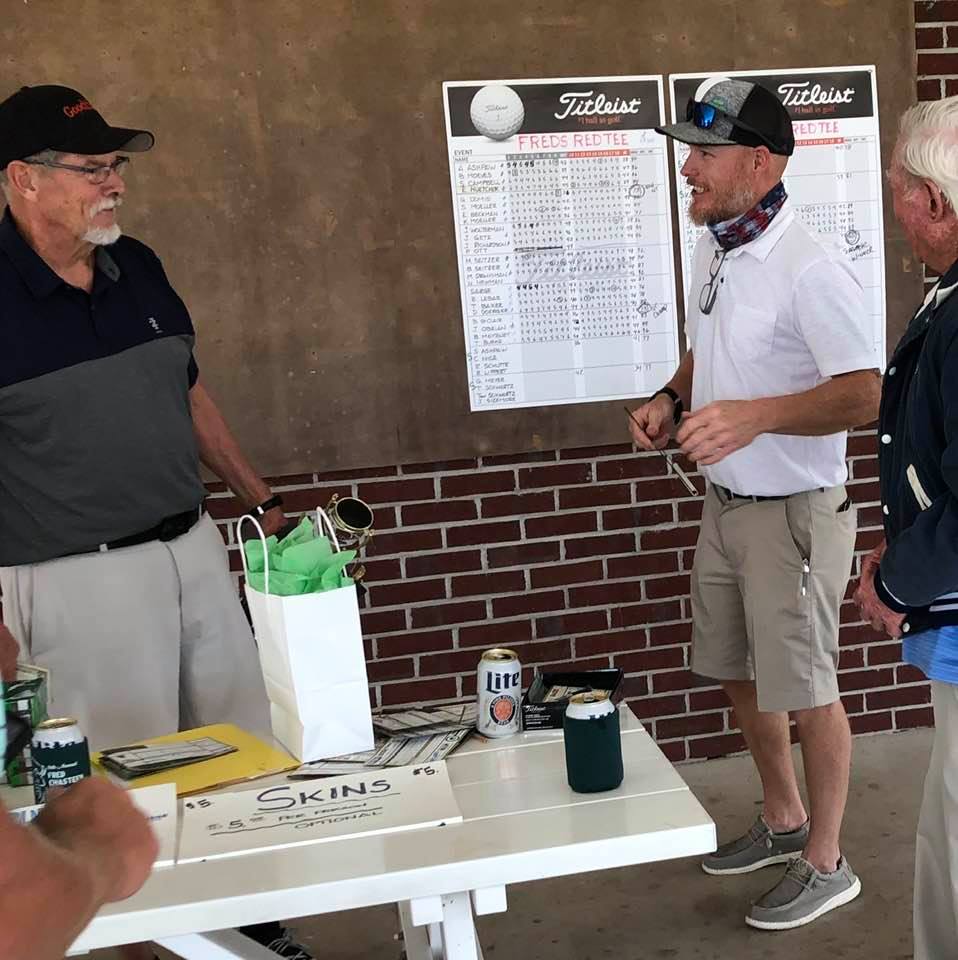 2020 GTMC Texas Trip :Our President and First Lady had a great time touring around the Texas Chapters and scouting in Arkansas. Thanks to Paul Weber and the Secret Service for keeping the brigade going.
Fristoes Master's Party : Date : November 8th. Time : 2:00 PM. Where: Fernbank? The Fristoe's are continuing the legacy of the Master's with their Cabin Party. Costumes are appreciated.
Riverhouse Roast Party : Date : November 14th Time : Campout Where : 9767 Brower Rd (Scherz Riverhouse). Bond Fire and Campout Season is here. We want to bring back that open fire tradition and hot dog roast. Bring your favorite creative sides and desserts. Fireworks at Dark!
2020 SOT : Quaker Steak Fundraiser Date: November 25th . Where: Quaker Steak Come and join us for dinner, before you have to spend the day cooking. Make sure to mention Goodtimers Support our Troops when paying. Sponsor : Ren Large
2020 : GT : Day After Thanksgiving Golf Date November 27th Where Circling Hills. Time: 10:30 AM The real question is…. What will the weather be like? Sponsor : Bud Lebar
2020 GT Christmas Dinner : Date :  December 17th  Where : Mill Course Time : 6:30 PM – 10:30 PM.  Join us for our annual holiday Prime Rib Buffett dinner. Full Open Bar until 9:30 PM .  It will be $60 / couple for members and $120 couple for non-members.  We are limited to 72 people this year.  Get your RSVP and Payment in FULL to Mike Behr as you can. Sponsor: Mike Behr
2021 38th Anniversary Family Ski Trip. Date : January 17th – 20th. Where : Seven Springs Ski Resort, PA. Cost: $ 435 / person. Time to escape to the slopes. See Robert about Family rates. Deposits due at the November meeting.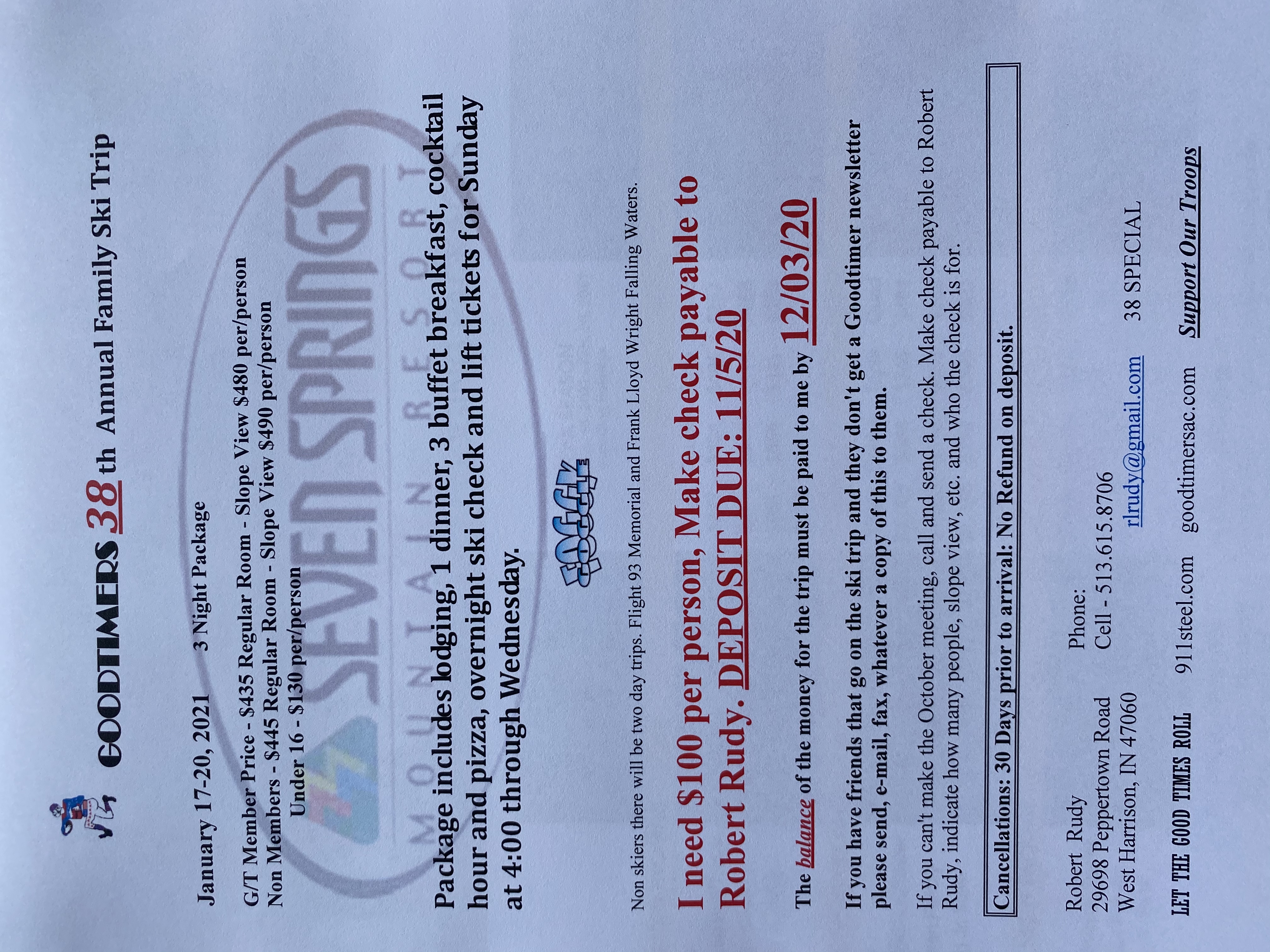 Committee Reports
Scholarship : We are planning a 2nd golf outing May 1st on a Saturday for the 2021 Scholarship Fund. Representative: Ren Large
911Steel.com – We are looking for an update at the November (Financial) Board Meeting. Representative : Robert Rudy
Support our Troops – We currently have 1 soldiers we are sending packages to. We will be at the VFW on the 3rd Wednesday of the month, November 18th . Still accepting donations, cash for postage, deodorant, hand wipes, shampoo, tooth paste, hygiene items. If you cannot make it to the VFW, contact Ren Large (smag55@aol.com) and he will make arrangements to pick up items. We are always looking for new soldiers to send packages. Contact us if you know someone.
Bob Blaylock Children's Fund – We are looking at possible fundraisers and new ways that we can support local needy kids. Jim Wray will put together a meeting soon.
Lodder Christmas Fund – Still looking for hoodies and coats. Now is the time to dig them out of your closet. You can bring them to a General Meeting or deliver them to his donation box at 2247 Millville Avenue at Lodder's plaza.
Foundation: No donations were made this month.
Jokers Wild: The jackpot is over $500 There are still two jokers out there. Dues must be paid and present to win.
Florida Chapter / Texas Chapter / Indiana Chapter: A Couple Goodtimers stopped by the the Texas Chapter for a couple of hours.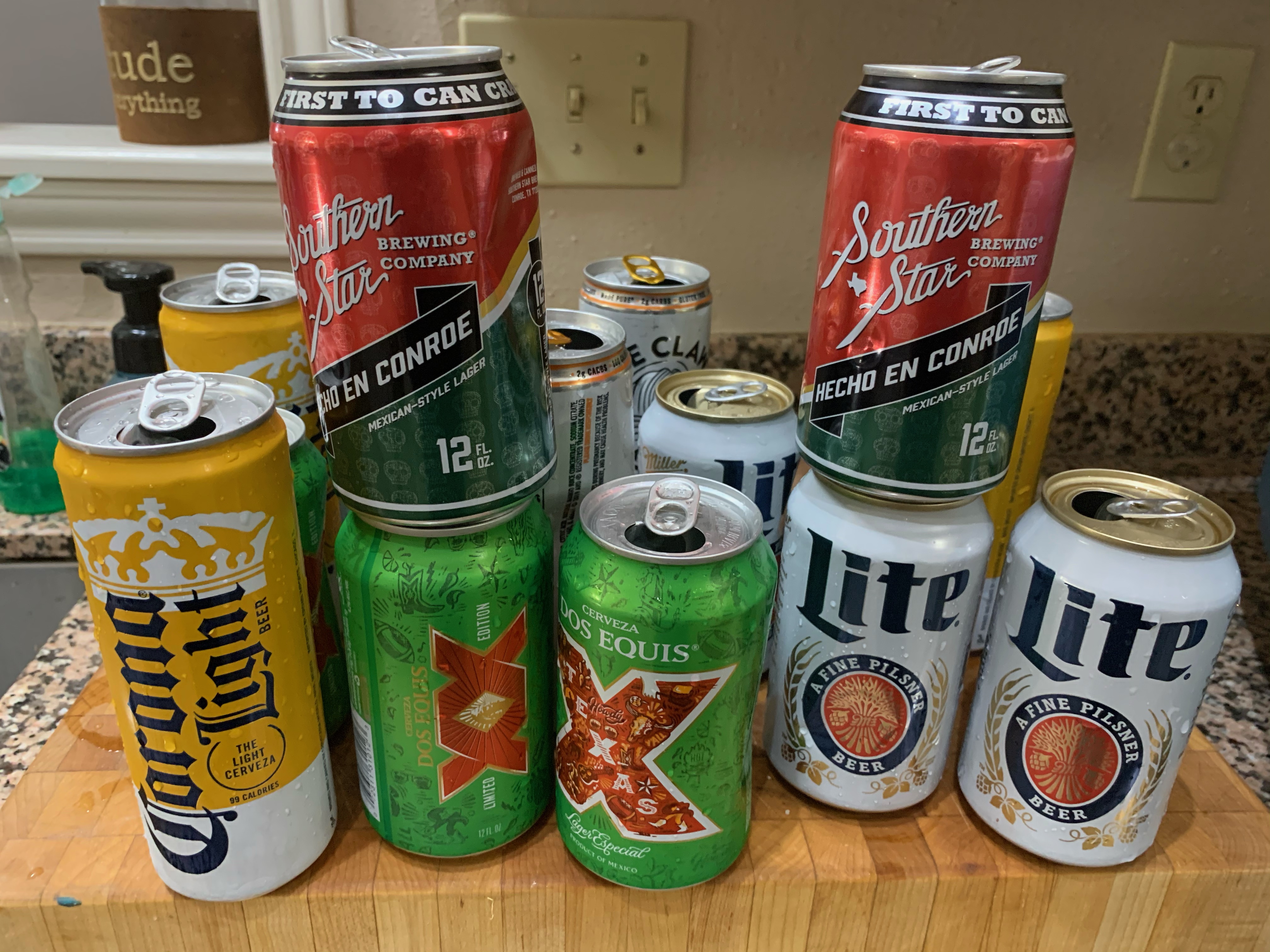 Would you believe?
I am not sure why we didn't see the Indiana and Florida at the chapter meeting?
Goodtimers are offering home school field trips on Thursdays.
Was that COVID rules on that Hole-In-One?
Events looking for Chairperson : Bardstown / Buffalo Trace Jail / Blaylock Celebrity Bartender / Curling / Cincinnati Roller Girls / Winter to Warmth 2020: Racquet ball tournament in Key West! / Roller Skating Party
Community Rewards: Remember! Do all of your Amazon shopping from smile.amazon.com to make sure the foundation gets the rewards.