November 2018

General Meeting:  November 1 Chas. R. Gailey VFW 8:00 PM
Board Meeting: November 15   Chas. R. Gailey 6:30PM
Pres. Robert Rudy, VP Brian Moeves Treas. Mike Behr, Sr., Sec. Doug Rudy , Sgt @ Arms Adam Ashpaw,  Board Members: Tim Burke 19, Ren Large 20, Denny Huxel 21, Steve Gartner 21
On the web at: www.goodtimersac.com
Saint of the Month:  Tom Scherz Sr for food prep at golf outings and family picnic
2018 GT Fred Tee Open:   Barry won with a 75.   The club is instituting a new golf handicapping system as members are starting to shoot lower than their age.  Take your age, subtract it from Norm's score (99), divide by 1, multiply by 1 and then add your age.  This is your new score.  Congrats Barry!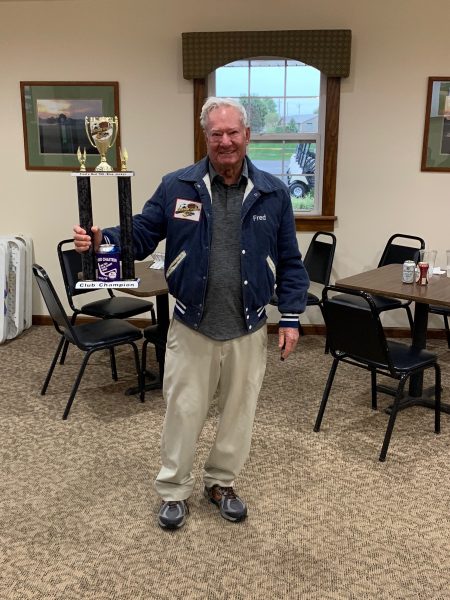 2018 Cincinnati Dental Society  5k Walk/ Run " Leave no Vet Behind" It's always good to get out in support all of our Vets.  No world records were set, but in the side race between John John and Abraham Kiptum, John John turned on the afterburners and was able to hold off the end push by Abraham, claiming the victory.  Thanks to all in attendance, to the Dental Society and to Ken Brandt for sponsoring.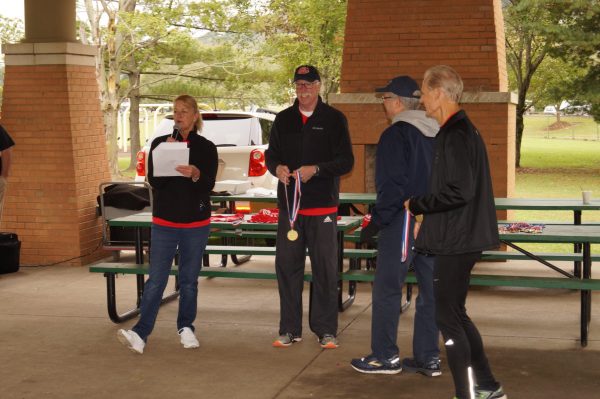 2018 Cinti fire dept/ 2nd street saloon pub crawl: 911Steel was on full display and looked great in the night lights, especially as certain members were shooting Fireball's.  Special thanks to all who came out to support the MDA and the Fill the Boot drive.
2018 GT Golden Ball :  What else can you say about this club?  50 years young and still showing off.  A huge thanks to everyone who came out.  Kathy "hippy" Gambil represented all those who used to hang around the fire pit when the meetings were at the Grove and won the best dressed female. In true hippy fashion, she shared her prize with everyone. Tom "Elvis" Ashpaw  left the building with the win for best dressed male.  In the dance competition, Tim and Marty Burke, won by a slight margin to Arnie and Kathy Ashpaw.  I've heard it my whole life and said it many times…A GOODTIME WAS HAD BY ALL.
VFW Turkey Shoots Date:  Starts September 30th Time: 9:00 AM . Where : VFW on  Brownsway. First shot at 10am . The date seems wrong on this, but I couldn't find anything on any website.  Lasts as long as people want to shoot.  Kids are welcome to come dodge bullets and collect targets.
2018 SOT Quaker Steak Fundraiser: When: November 21st , Where: Quaker Steak and Lube : Beat all the Black Friday madness and stop in for lunch or dinner. Make sure to tell your server that you are with the Goodtimers and they will donate 20% of the bill to the Support Our Troops fund. Monies are used to provide shipping for the gift boxes we send to active duty soldiers over seas.  Sponsor : Ren Large
2018 GT Day After Thanksgiving Catholics vs. Protestant Golf Outing: Where Circling Hill's, When: November 23rd , Time: TBD, but will be delayed because of frost: A protest was filed and all former permanent bans from this event have been overruled by the committee, thus all members and friends are welcome.  Make sure you include your team of choice (choose carefully as it may impact your afterlife) and handicap on the sign up form, see Fred's golf outing notes for calculating your handicap.  Sponsor : Bud Lebar
December 1st Fundraiser:  Hold the date, December 1st at Jim and Jacks. Benefit for Debbie Christman's great nephew, he's 5 years old and needs a heart and lung transplant.   We've stepped up before and let's do it even better than before, do your best to attend.  They are also looking for donations of raffle items and some bottles for the Barrel of Cheer.  Mike will be sending out more details in e-mail.  
2018 GT Kids Christmas Party: Where:  Northside K of C When: December 16th, 4-9PM.  Parents please remember to leave no kid behind and bring a gift for your offspring.   Dinner provided, attendees as asked to brink Dessert A – Maybury or appetizer/snack N-Z  Sponsor : Sarge
2018 GT Adult Christmas Party: Where:  Winton Wood Mill Banquet Center When: December 19th, 6-11PM – $45 / person due at the December meeting.  Cocktail/Social party from 6-7, buffet dinner at 7. DJ from 6:30-11.  Last call is at 10:30. Sponsor:  Mike Behr
Christmas Caroling:  December 20th:  Ring out the church bells, strike up the band, Christmas is near.  Same rules as always, if you don't show up to sing, your may be visited by the choir.  
2019 GT Ski Trip : Date: January 20- 23  – If you are not sure about this, you shouldn't go, just skip this part.  Rumor has it there will be a Blaylock vs. Akridge competition Monday at 8.  Trip details are as follows:  3 Night Package.  G/T Member Price – $420* Regular Room – Slope View $460* . Non Members – $430* Regular Room – Slope View $470* . Package includes lodging, 1 dinner, 3 buffet breakfast, cocktail hour, overnight ski check and lift tickets for Sunday at 4:00 through Wednesday 7:00.  Money due at the December Goodtimer Meeting.  Sponsor : Robert Rudy
Committee Reports: 
Scholarship – The 2019 application is available on the web site.  Applications due no later than March 31, 2019.
911Steel.com –  November Events :  Delhi Veterans Day (Nov. 11) @ 11:00 AM
Support our Troops – Packing boxes for 3 local soldiers on November 12  at Elis Sports Bar in Ross, beginning about 7:30. we are collecting the necessities i.e. Toilet paper , deodorant , Toothpaste , Tooth brushes , Handy Wipes, hygiene items. Cash donations for shipping costs  are always appreciated
Foundation –   October Donations:  Colerain Township Police, UC Police and Cincinnati Police Department
Don't forget to select the Goodtimers Foundation as your Amazon Smiles Charity and Kroger's Community Rewards.
Use the DONATE button on Facebook to directly donate to the GT Foundation.
For Sale :
Tim Burke has a 2003 HD v-rod up for sale . Runs like a cream puff, See Tim for details.
Member News:
Tom Koenig was in the hospital recently, but they had a hard time finding him a roommate, so they sent him home.  He's currently staying with Amy, give him a call or I'm sure he would love a text.  Tom, hope you are doing well and this put's a small smile on your face, as it did mine.
Upcoming Events:
West Virginia Dog Track
New Years Eve
Bengals Playoff Game
Motorcycle Ride to Hawaii
November Brings Us:
Election Day-6th, Veterans Day-12th, Thanksgiving-20th